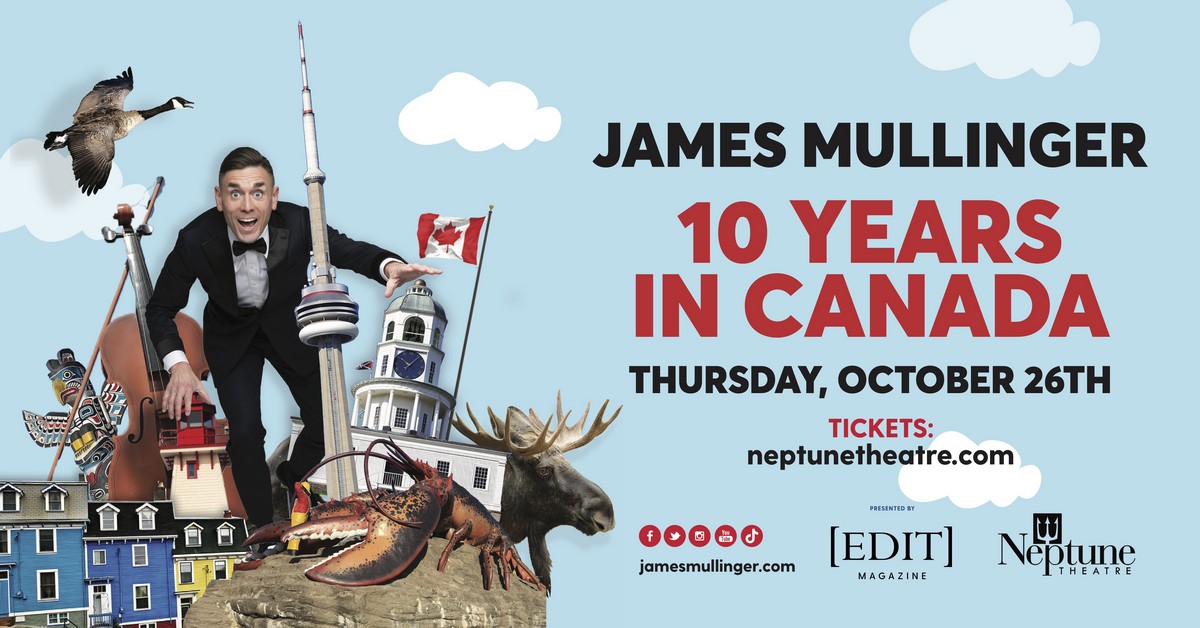 BACK BY POPULAR DEMAND!
EXTRA DATE ADDED!
"James Mullinger is Britain's greatest gift to Canadian comedy." Stuart Nulman, Montreal Times
James Mullinger was one of the UK's top comedians and the Comedy Editor for GQ magazine when he moved to The Maritimes in 2014. Since his arrival, he has taken the country by storm. He has sold out shows across the country, made appearances on CBC's The Debaters, movies, Television shows, festivals, award shows and stand up specials…he's done it all. You can watch James in action
HERE
. 
It's now award-winning British comedian's James Mullinger's tenth year living in Canada! And after publishing his bestselling memoir
Brit Happens – Living The Canadian Dream
, creating his own magazine celebrating Atlantic Canada and creating and starring in New Brunswick's first ever sitcom, he is back on the road with a full length stand up show sharing what he has learned about this special place over the past decade. Irreverent, honest, unpredictable but always hilarious, James is a Canadian citizen now and the gloves are off!
James' January performance at the Neptune Theatre sold out within days so we have added this extra tour date!
In this far-reaching show celebrating 10 years living in his favourite place in the world, James shares his unique insights into the province and the world. Nothing is off limits in this unique and special celebration of this place.
Looking back and looking forward, this is your last chance to see some of James' classic routines and first chance to see some of his newest.
For longtime fans and newcomers alike, this is a show for everyone!  Be prepared to laugh, feel inspired and uplifted.
"I don't even like British people, but I love James Mullinger." Mary Walsh

"James Mullinger is my favourite comedian friend who has relocated from England to New Brunswick. And I'm not just saying that because he's the only one." Steve Patterson, host of CBC's The Debaters

"The East Coast won the comedy jackpot when James Mullinger decided to make the Maritimes his home. James makes me laugh until my stomach hurts." Alyse Hand, Global News Halifax

"James Mullinger masterfully straddles the line between the objective and inclusive, culturally and geographically. He gently pokes us with a stick while being one of us." Jonathan Torrens
Show Info

This show is approximately 100 minutes with no intermission.
Recommeded for ages 12 and up. Babes in arms & children under 4 are not permitted in the theatre.
Tickets are $28.00 plus tax.

Playing on Neptune's Fountain Hall Stage.
James Mullinger Neptune/Halifax